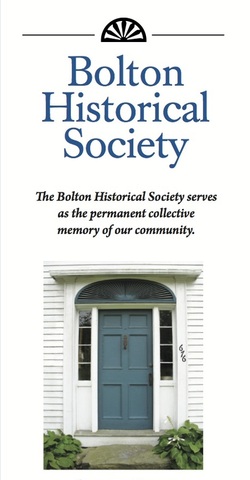 MEMBERSHIP
The Bolton Historical Society is a non-profit charitable organization founded in 1962 to stimulate and perpetuate an active interest in Bolton History and to conduct research pertaining to the Town of Bolton and its residents.
This Society is wholly dependent on donations and volunteers. Membership dues provide primary support for preservation, events, and operations.
Memorial or Honorary Gifts: You can honor a special person with a designated or unrestricted gift.
Donate Items/Photographs: We are interested in any items pertaining to Bolton.
Volunteers: A small amount of time can make a big difference. If you are interested in one of the following please contact us:
Archiving (Urgently required)
Data Base management and control (Urgently required)
Fashion Collection
Financial Advice
Gardening
Genealogy
House Oversight
House Repair
Legal Advice
Presentations
Photography Exhibits
Special Events
MEMBERSHIP DUES
:
These dues are fully tax-deductable to the extent permitted by law. If your employer has a matching gift program, it can double your gift. Our Membership Dues are as follows:
Benefactors $250
Sustaining $100
Supporting $50
Family $35
Individual $20
Senior or Student $10
---