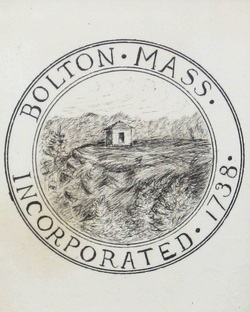 TOWN SEAL

The Town Seal was accepted by the townspeople in 1900 and is still being used today. It was designed by Miss Evangeline Young, a gifted artist and teacher.

---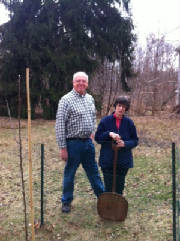 BOLTON'S MOTHER APPLE

Tender, sweet and juicy with an aromatic flesh, Mother Apple is considered one of the finest eating apples. Now an heirloom variety, Mother was developed in Bolton in the early 1800's by Steven Partridge Gardner. Having served as a general in the militia, Gardner came to Bolton in 1798, married Achsah Moore, and built his house on the Great Raod (#642, now the parsonage for the First Parish Church). Gardner ran a store in a building behind his house, stocking it with sundry items, some earmarked for the poor. The store must have also sold spirits because he held a liquor license from 1793 to 1805. Gardner's interest in pomology led him to create Mother. Described as a medium-sized with golden yellow skin with red striping, mother never reached commercial success because it does not keep well and ripens unevenly. This apple is best eaten right from the tree. Mother Apple still exists at such places as Nashoba Valley Winery, Sturbridge Village and Tower Hill. Anyone interested in growing their own Mother Apple can contact the Worcester Horticultural Society; they sell the scion wood for grafting in late winter. Roger Breeze and Alice Coggeshall (above left) planting the new Mother Apple at Sawyer House in 2013.

---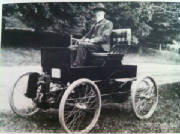 BUYING A CAR.......

Buying a new car can be a daunting task. Hybrid or all gas? SUV or sedan? What can $25,000.00 get you? But back in simpler times: Charlie Mace and his wife Sarah lived most of their married life in the center of town. They could walk to anything going on in Bolton, and for any other purpose a horse and buggy filled their needs. But around 1910, Charlie got the urge to buy an automobile. With the closest car dealership being in Boston, Charlie boarded a train one fine spring day to car shop along Commonwealth Avenue. After finding one to his liking, he paid in cash and then informed the salesman that there was one little problem: "I don't know how to drive." After a few trips around the block with the salesman, Charlie started home, gaining confidence with every mile, and arrived back in Bolton without an accident!

---