AN EVENING WITH LISA BROOKS
Author of
Our Beloved Kin:
A New History of King Philip's War
Tracing Mary White Rowlandson's Path:
From Lancaster/Nashaway to Kwinitekw, the Connecticut River

Thursday, April 5, 2018, at 7 PM
Nashoba Regional High School Auditorium
12 Green Road, Bolton, MA

​








​
​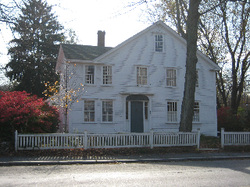 RENOVATIONS OF THE PARLOR AND SUMMER KITCHEN

The parlor was renovated in Summer of 2015. We hope to start the renovation of our Outdoor Kitchen. If you are interested in contributing to our project, manpower or donation, please contact the Historical Society.
---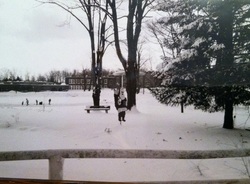 ​FREEDOM'S WAY - MASSACHUSETTS
For more info see
http://www.freedomsway.org
BHS continues it's affiliation with Freedom's Way, a consortium of local towns with shared history. Attending events allows BHS volunteers to meet others in similar Historical Societies and exchange ideas. Look for our future participation in the
Patriot Paths
program.
From "Freedom's Way" web page:
VenueDescription
Bolton Center
Main Street
Bolton Center comprises layers of heritage landscapes — historic dwellings, farms, mill sites and civic buildings. A narrow linear district has been listed in the National Register of Historic Places. Center area includes: former William Sawyer Farm,
Pond Park
(designed by Alfred Stone); the Sawyer mill pond, dam and tailrace; three stone slab bridges; remnants of a rail line; and upland fields; opportunity for Native American archaeological sites; the Old Common; Town House; First Parish Church, powder house, and old roads.
Above Left: a photograph of children ice skating on
Pond Park
.
---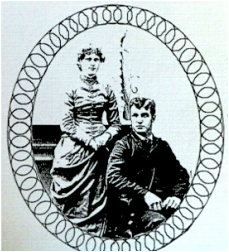 BOLTON GERANIUM

Aurilla Miner was given a slip of an unusual geranium as a gift from her husband Arthur. She successfully propagated it and soon many of her friends and neighbors in Bolton wanted a scion. As time passed, plants died or were forgotten and by 1970 the only known Bolton Geranium was living with Florence Sawyer who was leaving town for the winter. A friend of Mrs. Sawyer by the name of Esther Whitcomb, agreed to plant sit, and on Mrs. Sawyer's death, Mrs Whitcomb took over the hardy survivor and kept the strain going for the next several years. A local garden center agreed to propagate the Bolton Geraniium for the Society and it was first offered for sale in the spring of 1988. The Bolton Geranium is a direct link to Bolton's past and has several unusual properties. Although a bicolor, no two petals are alike. Unlike modern hybridized geraniums, the Bolton Geranium sets seeds. Also, unlike many modern hybrids, it will bloom heavily all winter, given sufficient sunlight and care.

Every year in May we sell the Bolton Geranium at Sawyer House.
---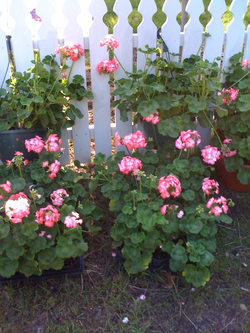 GERANIUM SALE



The Bolton Historical Society holds its annual Bolton geranium sale at Sawyer House, 676 Main Street, Bolton, in the month of May. See Calendar Schedule for exact date. This is a once a year opportunity to own this unique geranium that is a link to Bolton's past. For more information, contact the Society at 978-779-6392 or mary@boltonhistoricalsociety.org. Also visit us on Facebook.
---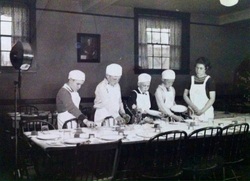 4H

"CREATING POSITIVE CHANGE 4-H IS THE NATION'S LARGEST YOUTH DEVELOPMENT AND EMPOWERMENT ORGANIZATION, REACHING MORE THAN 7 MILLION 4-H YOUTH IN URBAN NEIGHBORHOODS, SUBURBAN SCHOOLYARDS AND RURAL FARMING COMMUNITIES. FUELED BY UNIVERSITY-BACKED CURRICULUM, 4-H'ERS ENGAGE IN HANDS-ON LEARNING ACTIVITIES IN THE AREAS OF SCIENCE, HEALTHY LIVING, AND FOOD SECURITY." From the 4H website

Come see the new 4H exhibit in the newly renovated inside kitchen of Sawyer House. Mrs. Florence Sawyer (who donated Sawyer House to the Bolton Historical Society) was the head of 4H in the Bolton Area. She hosted activities such as cooking, sewing, animal husbandry and tin work.

The picture above left was taken at the First Parish Church in the kitchen area.

Those in the picture are: Edward Randall, Harold Babcock, Arthur Ware, Francis Mentzer and Marion Greenawalt

Photo: Bolton Historical Society
---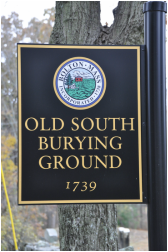 OLD SOUTH BURYING GROUND/CATALOGING

Members of the Bolton Historical Society have started to catalog the cemeteries of Bolton. The first cemetery to be cataloged is the Old South Burying Ground. We are placing the pictures of the headstones and writing the information on to the website called "Find a Grave" If you are interested in helping to take this project further, please contact us.
---